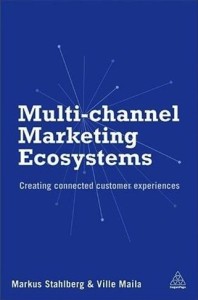 I recently contributed a chapter to a book called Multi-Channel Marketing Ecosystems, edited by Markus Stahlberg and Ville Maila.
The book offers a variety of perspectives from 32 contributors on "the seismic shift from a single TV-centric path to a multichannel interactive ecosystem which puts digital technology at the heart of every campaign."
To promote the book, the publisher has agreed to let me distribute my chapter — Chapter 9: Software-driven marketing ROI — for free as a PDF, with no registration required.
It's a short, 7-page introduction to the changing relationship between marketers and technology, motivated by the shift from brand communications to brand experiences. It can be summed up in one sentence:
"Software is the new fabric of marketing."
But if you'd like a little more elaboration, click the page below to read the full chapter:
If you're interested in taking a look at the rest of the book, it's available with a preview on Amazon.
Get chiefmartec.com directly in your inbox!
Subscribe to my newsletter to get the latest insights on martech as soon as they hit the wire. I usually publish an article every week or two — aiming for quality over quantity.