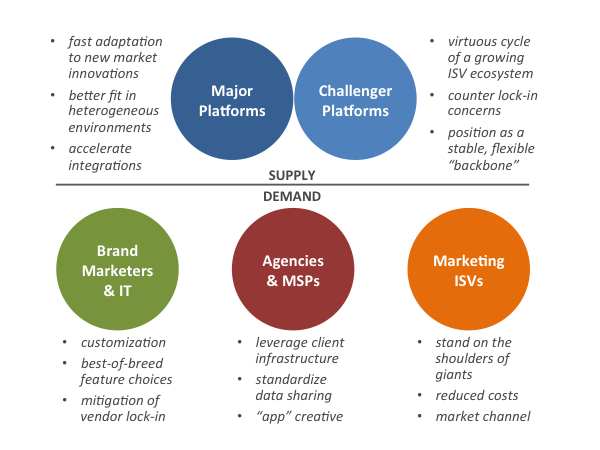 On the topic of "open marketing platforms" — foundational marketing software systems that make it easy to plug in or connect with other marketing applications built by third-parties — I admit that I'm thoroughly biased.
As an industry observer, I've staked my prognostication badge on the case for consolidated platforms and diversified ecosystems (2012), the emerging third-party era of marketing automation (2013), and open platforms as the enablers for 1,000+ marketing technology vendors as the new normal (2014). It would be nice to have called that correctly.
Right out of the gate, that biases me in favor of open platforms.
Hello, my name is Scott, and I'm an ISV
But I'm also in the trenches. My company is effectively an ISV (independent software vendor, which is a fancier way of saying "third-party") that offers a cool marketing apps studio. Our customers do not use our software in a vacuum. They connect it with their CRMs, marketing automation, and web content management systems. The better ISV support those backbone systems provide, the easier it is for us to sell and support our product.
So, yeah, that's a pretty big bias.
Of course, I should note that there are over a thousand other marketing technology vendors who have that same bias. In fact, at that scale, it becomes less of a "bias" and more of a "constituency."
But my biases don't stop there.
Marketers are persistent about getting what they want
I'm also biased as a marketer — specifically as a marketing technologist. I want the freedom for my company to choose best-of-breed software, to pick the right tool for the right job, and to have these different components interoperate. I'm not necessarily expecting a Vulcan mind-meld between these pieces, but at the very least I expect to be able to exchange data between them — preferably without baling wire and bubblegum.
My dear marketing platform vendors, let me say this with my marketer hat on:
The easier you make it for me to plug in other marketing applications and get synergies between them, the happier I am. I may love your campaign management capabilities, but think your social media management features suck. That doesn't have to be an existential crisis for either of us though, if I have the ability to keep one and substitute the other. If some hot new digital service emerges — marketing with VR and wearables? — and you don't support it yet, I don't have to angrily hound you on the phone, email, and every social network I can grumble on for 16 months. I can turn to an innovative start-up that can plug into your APIs, and I end up lauding you for your amazing flexibility.
And as a software customer, I'm biased that I want to avoid vendor lock-in. No offense, I may love what you do and hope we have a long and wonderful relationship together. But I want that relationship to continue to persist on love, not walls or chains. I want to be friends with other vendors without you jealously guarding your data — well, actually, it's my data. Ahem. And if for whatever reason we drift apart — I change and you don't, or vice versa — I want to be able to part ways without having to give up half my house.
Yes, these are pretty big biases too. No wonder I keep yammering about openness.
But here again, I'm not the only one with these biases. Increasingly, as I talk with other marketers, I hear them raise the same issues and desires. And their counterparts in IT — the champions of massive enterprise architectures — are some of the most vocal advocates of open platforms too. Because IT has learned from hard experience that while big budget relationships with single-source vendors have benefits, they also have pitfalls. They're not going to relive the ERP nightmares of the last century if they can help it.
That's not to say that big budget relationships with dominant-source, if not single-source, vendors aren't still viable. Other things being equal, most marketers and IT professionals would prefer to deal with fewer vendors. If your marketing cloud gives us everything we want, that's awesome. But let's be real. For most businesses of any real size, it is highly unlikely that your cloud is going to give us everything we want. If it gives us 80% of what we want, that's fantastic. But for the other 20% — we want the freedom of choice. Call it the Pareto Principle of Marketing Platforms.
That's not the editorial "we" either. It turns out that this desire for the benefits of openness is less the bias of a single marketing technology geek and more the growing expectations of the collective marketing technology market.
The strategic shift towards openness by major platforms
Here's where marketing platform vendors have had three strategic choices:
Resist openness (and try to spin that as a feature).
Technically support openness, but keep it in the fine print.
Embrace openness and flaunt it as a competitive advantage.
Initially, strategies #1 and #2 were the most prevalent. But recently, strategy #3 has surged ahead. Marketo proclaimed their open platform strategy in April. Adobe announced their Marketing Cloud Exchange last month. And in a recent chat with the head of ISV partner strategy at IBM for their new ExperienceOne platform, it sounded like they're headed this way too.
This is a remarkable shift in positioning for some of these companies, and — given all my biases — I enthusiastically applaud them and the others who are pursuing similar efforts to varying degrees (Oracle, Salesforce, HubSpot, Act-On, etc.).
As the graphic at the top of this post illustrates, an open strategy offers benefits to all stakeholders in the marketing ecosystem — including the platform companies themselves. Admittedly, it's a different set of benefits for them than more closed strategies, but in an environment of continuous innovation, it arguably gives them more room for growth.
And once enough marketing platforms are competing with open strategies, it's going to be increasingly difficult for more closed solutions to convince the other stakeholders to give up those benefits.
So, does this mean that the "open marketing platform" debate is over?
Not all open marketing platforms are equally open
Well, to paraphrase marketing technology analyst extraordinaire David Raab, "no."
In a recent post, What Makes a Good Marketing Platform? Rules for Platformality, David makes it clear that "openness" is not a binary feature. It's not as simple as checking a box: "sure, we're open!" There's a broad continuum of how open a platform truly is:
How much of the data in the platform is exposed via APIs?
How much of that data exchange is fully bi-directional?
How performable is that data exchange at scale or in real-time?
Are workflow and event-triggered services accessible by ISVs?
What other platform services are available for ISVs to leverage?
Can ISV products plug into the user interface of the platform?
Are there good access controls for different ISV applications?
How easy and elegant (or not) is it for ISVs to integrate with the platform?
How easy and elegant (or not) is for customers to install ISV products?
How "discoverable" are ISV products within that platform ecosystem?
How many ISVs have built and maintained integrations with the platform?
There are quantitative and qualitative answers to these questions — and indeed, many more questions. David has mused that to be really accurate, you'd want to evaluate a platform's openness on a whole series of specific use cases, a kind of open marketing platform test suite.
It would take the discussion of what it means to be an open marketing platform to the next level and provide something of an apples-to-apples benchmark for comparison of different platforms.
This echoes the ideas that Marty Kihn of Gartner has shared in his blog about hubness too.
Given my documented biases, it's no surprise that I'm enthusiastically in favor of this. But as David has pragmatically pointed out, it's a non-trivial amount of work to create and maintain this Marketing Platformality Index instrument. I've tried to goad him into this, but that only resulted in him drawing devil's horns on my photo. But he did counter with the suggestion that perhaps we could crowdsource this.
The wisdom of crowds — and a plug for MarTech
There are a number of ways we could do that, assuming the crowd — specifically a quorum of you, dear readers — were motivated enough to join us:
Start to collect suggestions for a framework for such a Marketing Platformality Index and a governance structure for assembling and maintaining it here in the comments section of this post or David's.
Arrange for a brainstorming session of interested parties at the MarTech conference this August — given the packed agenda, it might need to be an evening affair, but David has hinted that beer may actually be helpful in such an exercise.
Launch a wiki or similar kind of moderated environment where multiple contributors can work on this project in an open and transparent manner.
What do you think? Chime in on the comments below.
If you're interested in this topic — whether or not you want to be an active participant in the discussion of a Marketing Platformality Index — I'd encourage you to join us at MarTech in Boston this August.
David will be delivering a terrific presentation on How to Align Marketing Technology with Business Strategy, which I suspect will touch on these issues. Executives from Adobe, IBM, and Marketo will be joining me for a special panel on Growing ISV Ecosystems for Major Marketing Platforms. And there will be 16 other sessions from amazing speakers, as well as hundreds of your peers in marketing technology leadership to connect with and share ideas and experiences face-to-face.
The "alpha" rate (i.e., our early bird rate) expires tomorrow, so if you're reading this in time, register now for the best rate.
Get chiefmartec.com directly in your inbox!
Subscribe to my newsletter to get the latest insights on martech as soon as they hit the wire. I usually publish an article every week or two — aiming for quality over quantity.