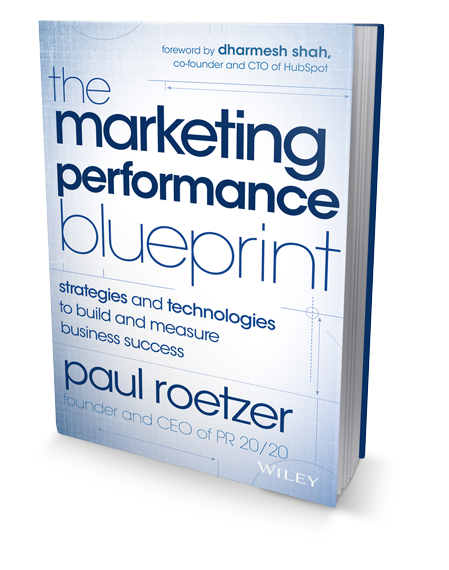 This has been a banner year for marketing technology — and marketing technologists — being recognized as an integral part of modern marketing.
Featured articles in the Financial Times and Harvard Business Review, both true mainstream business publications. The launch of the MarTech conference, taking place in Boston next week, which has completely sold out.
And I'd now add the publication of a new book, The Marketing Performance Blueprint: Strategies and Technologies to Build and Measure Business Success, by Paul Roetzer.
In many ways, The Marketing Performance Blueprint fits the model of the classic "put it into practice" marketing book. Its publisher, Wiley, has been a leader in this category in the digital era with best-sellers such as Inbound Marketing, Content Rules, and The New Rules of Marketing & PR. They're written to help the majority of marketing managers adopt the best practices that the innovators and early adopters have pioneered. They're very accessible and mainstream. And Paul's new book continues solidly in that tradition.
But what makes The Marketing Performance Blueprint remarkable is that it's the first such book that dedicates an entire section to managing marketing technology as an essential part of marketing leadership.
To be clear, plenty of other books have talked about implementing individual marketing technologies — i.e., how to use tools like AdWords and WordPress — but none have treated marketing technology management as broadly and holistically as this.
Paul lays out a pragmatic way to map your marketing technology strategy — that starts with appointing someone to own marketing technology. Here, I simply have to quote him verbatim:
Historically, marketers focused on the four Ps — product, price, place, and promotion — and let IT worry about technology. The problem is that IT professionals have different goals and priorities, along with larger organizational responsibilities, including data storage, security, mobility, and operations technology infrastructure. They rarely have insight into buyer personas and the customer journey, and they do not spend their time immersed in the marketing technology trends that impact your business.
Appoint a chief marketing technologist or similar leader who drives and manages the convergence of marketing and technology within the organization. For startups and SMBs, this may be your most tech-savvy marketer or an outside consultant.
Emphasis added is mine. Because for a pragmatic, mainstream marketing/business book to recommend appointing a chief marketing technologist is a noteworthy milestone.
Paul spends a significant portion of the book discussing the changing nature of marketing teams overall. He has long been a champion of "hybrid marketers" — such as marketing technologists — who are able to blend analytical and technical skills with marketing insights and creativity. While acknowledging that finding such ready-made hybrids on the open market is challenging, as they're in high demand, he offers terrific suggestions for recruiting them — and also describes how to develop them with an internal "marketing academy."
Challenging? Yes. But as Paul writes early in the book:
[Modern marketing] is no place for curmudgeons and lumbering organizations. This is the land of underdogs and innovators. Professionals and businesses that are nimble, dynamic, and transparent have the opportunity to disrupt markets, displace leaders, and redefine industries.
I've written this on my whiteboard: modern marketing is for underdogs and innovators.
For those of you who are attending MarTech next week, you're in for a special treat: Paul will be delivering a keynote talk on the afternoon of Day 1. In addition, through Paul's generosity, every attendee will receive a copy of his book — and he'll be doing a book signing during that afternoon's refreshment break. For the rest of you, well, there's Amazon.
Get chiefmartec.com directly in your inbox!
Subscribe to my newsletter to get the latest insights on martech as soon as they hit the wire. I usually publish an article every week or two — aiming for quality over quantity.