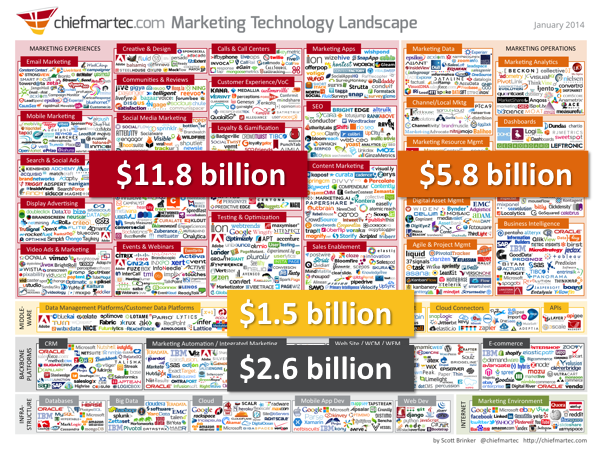 Hold on to your butts: there's been over $21.8 billion of venture capital and private equity invested marketing technology companies. And that doesn't include money raised from public offerings, M&A deals, or untracked investments from angels, friends and family — or the hundreds of companies who weren't included on my landscape (as I always disclaim, it's definitely not comprehensive).
In other words, real investment in space is much greater than $21.8 billion.
Earlier this week, VentureBeat announced a collaboration between us: they've taken my marketing technology landscape graphic and married it with their broader VBProfiles database of companies, investors, and funding. (VBProfiles itself is a collaboration between VentureBeat and Spoke Software.)
The most immediate benefit of this is that we can mine some amazing aggregate data on investments made across the marketing technology space. Based on an analysis that Philippe Cases, the CEO of Spoke Software, ran against the VBProfiles database, we found many fascinating revelations. Here are just three to get started:
1. There's been over $21.8 billion in tracked fundings for marketing tech companies — which includes all of the categories on my landscape except for companies at the bottom of the graphic in "Infrastructure" and the "Internet." (After all, those two categories are not specific to marketing. But if you were to add them in, the total funding more than doubles to $49.1 billion — thanks to Facebook, Google, Twitter, etc.)
The breakdown across the main categories of the landscape:
Marketing Experiences: $11.84 billion
Marketing Operations: $5.84 billion
Marketing Backbone Platforms: $2.60 billion
Marketing Middleware: $1.53 billion
For comparison purposes, here are the other two categories — and even though they aren't pure marketing technology, they do also contribute to the space:
Infrastructure: $3.21 billion
Internet: $24.83 billion — remember, this includes Google, Facebook, Twitter, LinkedIn
2. There's already been over $3.3 billion in marketing tech fundings so far this year, as of mid-September when this data was analyzed. Again, this excludes IPOs. It excludes M&A activity, which is where we usually hear of big numbers in martech. Here's the breakdown:
Marketing Experiences: $1,820 million
Marketing Operations: $552 million
Marketing Backbone Platforms: $337 million
Marketing Middleware: $604 million
3. Because VentureBeat tracks the VCs and private equity groups that are behind these fundings — and even the individual partners at the firms who are leading these deals — so we can get a sense of who are the most active investors in marketing technology.
For instance, according to VentureBeat's data, Larry Bohn of General Catalyst has been involved in more martech fundings than anyone else — 19 funding events in the space. (Note: this may include multiple funding rounds to the same companies.)
I'd like to offer Larry the honorary title of Mr. Martech Money. Some of his investments include Bigcommerce, Clarabridge, Demandware, GoodData, HubSpot, Kenshoo, and Visible Measures. (Larry: please consider this a public invitation to a Q&A or guest post here — we'd love to hear your perspective on this space first-hand!)
Other VCs who have been involved in a large number of martech funding rounds include Anthony Lee of Altos Ventures (13 fundings, including Allocadia, BrightEdge, Demandbase, and Netbase) and Neeraj Agrawal of Battery Ventures (12 fundings, including Bazaarvoice, Marketo, Mass Relevance, Optimizely, Sprinklr, Tealium, and Yesware).
The overall VC firms that have been the most active in funding marketing technology:
Battery Ventures (39 fundings)
New Enterprise Associates (32 fundings)
Benchmark Capital (31 fundings)
DAG Ventures (28 fundings)
InterWest Partners (25 fundings)
Index Ventures (25 fundings)
Lightspeed Venture Partners (24 fundings)
Bessemer Venture Partners (23 fundings)
So as a firm, Battery Ventures wins first prize for making the most bets on the marketing technology landscape. (Neeraj — I eagerly extend the same invitation to you — we'd love to have you join us on behalf of Battery for a Q&A about how you see the world of martech.)
There are so many other insights that this dynamic dataset has to offer. I'll share more in future posts, but the beauty of the VBProfiles database is that you can go ahead and mine it yourself as well. I'd love to hear what you discover.
Get chiefmartec.com directly in your inbox!
Subscribe to my newsletter to get the latest insights on martech as soon as they hit the wire. I usually publish an article every week or two — aiming for quality over quantity.