I'm pleased to announce the results of our first-ever "Stackies" awards. As a quick recap, we invited marketers to send in a single-slide diagram of their marketing technology stack, the different marketing software products that they use in their work, organized in a way that makes the most sense to them. The four "best" stacks entered would split $1,876 to be allocated to charities they could choose.
Before I reveal the winners, let me first say a big thank you to everyone who participated. 21 marketers sketched out their marketing stacks and agreed to share them publicly. Although it wasn't a requirement for entry, most of them identified the specific products that they were using, which serves to make these stacks more real and less abstract.
Kudos to them. It takes courage to share this level of operational design. Those who did are helping the rest of us understand different ways to organize our own marketing technology capabilities. I am very grateful for these contributions, and I'm sure many other readers are too.
The magic of The Stackies, at least for me, was leaving it completely up to the participants to decide how to organize and visualize their stack. There was no "template." After all, there is no universally right or wrong marketing stack — all that matters is that your stack works for you. But by seeing the wide range of approaches that participants took in conceptualizing their stacks in this exercise, we all benefit by learning new ways to think about our own.
Generally speaking, there were four approaches to visualizing these stacks:
Clustered by marketing function (e.g., lead management, analytics, content, PR)
Organized by flow in the buyer's journey (e.g., awareness, lead conversion, nurturing, sales conversion)
Organized as a "layer cake" architecture, with platforms as foundation and specialized components added on top
Diagrammed as a "circuit board" of how components are connected together, mostly around data flow
Many combined two or more of these approaches, and of course, there were also a few wildcard designs. To choose the winners — which was extremely difficult — I subjectively picked those that I thought did the best job of representing an approach that others could learn from.
And the winners are…
First place: Datapipe
This is a beautifully thought out marketing stack. It's organized primarily by flow across the buyer's journey, which keeps the customer in mind throughout its architecture. "How does this particular piece of software move buyers forward?" is a great question to ask for every component in a stack.
Under that umbrella, it also clusters components for different marketing functions — SEO, conversion, email marketing, remarketing, CRM, etc. — which acknowledges the different kinds of specialized capabilities required into well-known marketing technology categories. And to boot, it also maps out some of the data flow between these components. The synthesis of these different lenses into a cohesive design is remarkable.
By identifying the specific products that they're using, this also makes their diagram concrete and pragmatic. Thank you, Datapipe, for sharing this.
Second place: IntelligenceBank
This is a terrific example of a "circuit board" approach to mapping out the relationships between the different components in a marketing technology stack. Not all of the products in this stack are identified by name — which we can appreciate for confidentiality reasons — but enough are to make this diagram very tangible.
It's fascinating to see which components have the most "wires" connected to them, such as Salesforce (CRM) and Drupal (CMS). You get a sense of which components are effectively platforms based on their degree of interconnectivity. The fact that there's not simply one platform at the heart of this is evidence of these maturing multi-platform architectures that I wrote about last month. Here, we have a CRM, a MAP, a CMS, a DAM, an SRP, and a TMS all working together.
I also like that the social media platforms (YouTube, Twitter, Facebook, LinkedIn, etc.) were explicitly called out, as I believe it's worth appreciating them as independent components in the marketing technology environment. And by including things like Google Alerts, this also demonstrates that even simple services can play a useful role in a marketing stack. Thank you, IntelligenceBank.
Third Place: Uberflip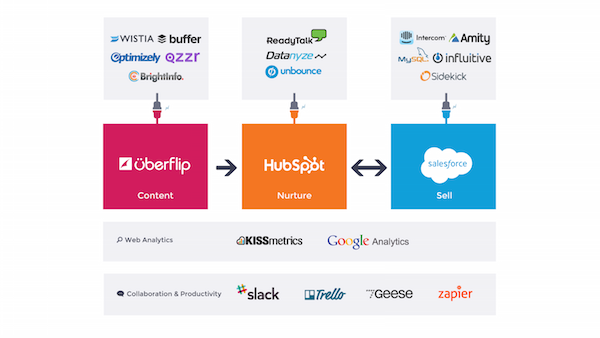 I love the clean and simple design of this stack. It is structured around three "stages" of capabilities — content, nurture, and sell — that also gives it the feel of a multi-platform architecture. Each of these stages has a primary component — Uberflip, HubSpot, and Salesforce, respectively — with other products designated as plugging in on top of them. A layer of analytics sits below all three stages, as does a set of collaboration and productivity tools.
The aphorism a place for everything, everything in its place comes to mind when I look at this. It's a rich collection of tools, but it's not complex. The company's VP of marketing, Hana Abaza, noted with their entry: "At Uberflip, process comes first. We figure out what we need to do, establish the right process, and then find the tech that will help execute and/or enhance that process." Thanks for sharing this, Uberflip.
Fourth Place: John Wiley & Sons
The previous three winners all sell technology that is represented within their own marketing stacks — so that's one incentive for them to share their stacks, as a way of demonstrating how their products fit into such architectures. John Wiley & Sons, however, comes from a completely different industry, publishing. And as a larger, public company, I have special appreciation for their willingness to share their marketing stack.
Their design clusters functional capabilities (e.g., lead gen, social, marketing automation), but also illustrates some of the data flow between components. Again, we see a multi-platform architecture that largely revolves around Oracle Eloqua and Salesforce. It's also interesting to see where they currently use a manual process to bridge a couple of capabilities with Aprimo (now Teradata Applications) and Allegiance (a voice-of-the-customer platform). Such manual processes actually abound in most marketing departments, and so it's nice to have them acknowledge it — it helps make this a very authentic marketing stack.
Thanks for sharing this, Wiley!
Honorable Mentions
Those four winners get to direct $1,876 that I will donate to charities on their behalf — $1,000 for first place, $500 for second place, $250 for third place, and $126 for fourth place. I'm still waiting to hear back from one, but the other three have chosen charity: water, Springboard Enterprises, and the Penn State IFC Dance Marathon, which raises money to find a cure for pediatric cancer.
There were many other great marketing stacks from Acquia, Acrolinx, Bizible, BloomReach, Boundless Agency, a Canadian law firm, CB Insights, Fox Service Company, Huify, Lattice Engines, Lyons CG, PSMJ Resources, Schneider Electric, ShowHope, Sitrion, Terminus, and an anonymous firm.
I'm grateful to all of them for contributing, but I did want to call out a few for honorable mentions:
The above stack by a Canadian law firm (they asked me to reference them that way, semi-anonymously) is an epic martech architecture. Its breadth and depth made it a strong candidate for one of the winning slots. They've clearly got a very definite idea of how each piece of their marketing tech ecosystem fits together. Incredibly impressive.
I like the above stack from BloomReach because of the way it divides their ecosystem into three layers — platform, optimization, and application — that blends a technical layer diagram and with a marketing purpose layering. I know, I'm a broken record on this, but again, note the multiple vendors in the platform layer.
The above stack from Acquia is a nice, clean layout — mostly organized around functional marketing capabilities, but with a bit of an implied pyramid hierarchy. As with a number of entries, I'm glad that team collaboration and management tools were recognized as part of the marketing tech ecosystem. I also thought that Acquia's collection of "prospecting" tools was a good example of software at the intersection of marketing and sales.
I thought the above stack from Terminus was helpful to see how even a relatively small startup can assemble a robust set of marketing technology tools. Note that five of the components are identified as being related to their blog.
Lattice Engines was one of the inspirations behind The Stackies, as they had run a similar content marketing campaign around marketing stacks, so I wanted to acknowledge them with an honorable mention as well. (I'd also like to acknowledge Demandbase for being a source of inspiration as well, from the marketing stack panel they had me moderate at their B2B marketing innovation conference.)
LyonsCG deserves, um, a nod for the above stack metaphor. Not that I would recommend that as a reference design for your presentation to the board. But having a weak spot in my heart for cheesy (get it?) puns, I figured it warranted a shout-out.
Finally, as I anticipated, at least one entrant (Huify) submitted a marketing tech "stack" with a single logo (HubSpot). Since that wasn't against the rules — in fact, you could say I invited it — I've kept it in as a valid point on the curve. However, I will note that all of the other HubSpot customers who entered The Stackies revealed a richer view of their ecosystem.
As promised, here is a slide deck with all 21 marketing technology stacks:
Get chiefmartec.com directly in your inbox!
Subscribe to my newsletter to get the latest insights on martech as soon as they hit the wire. I usually publish an article every week or two — aiming for quality over quantity.