Earlier this year, I collaborated with Jason Baldwin, global head of product management at WPP, on this project to describe five major trends in martech that would shape the decade ahead for agencies and brands. You can download our full paper, including many terrific interviews from WPP executives. I'm republishing it here as a 7-part series. This is part 6.
A survey of marketers conducted in May 2020 found that 59% were concerned that AI and machine learning would limit their personal growth — up from only 14% in 2019. Will AI lead us into a dystopian future where machines take over marketing, with few roles left for us humans to play?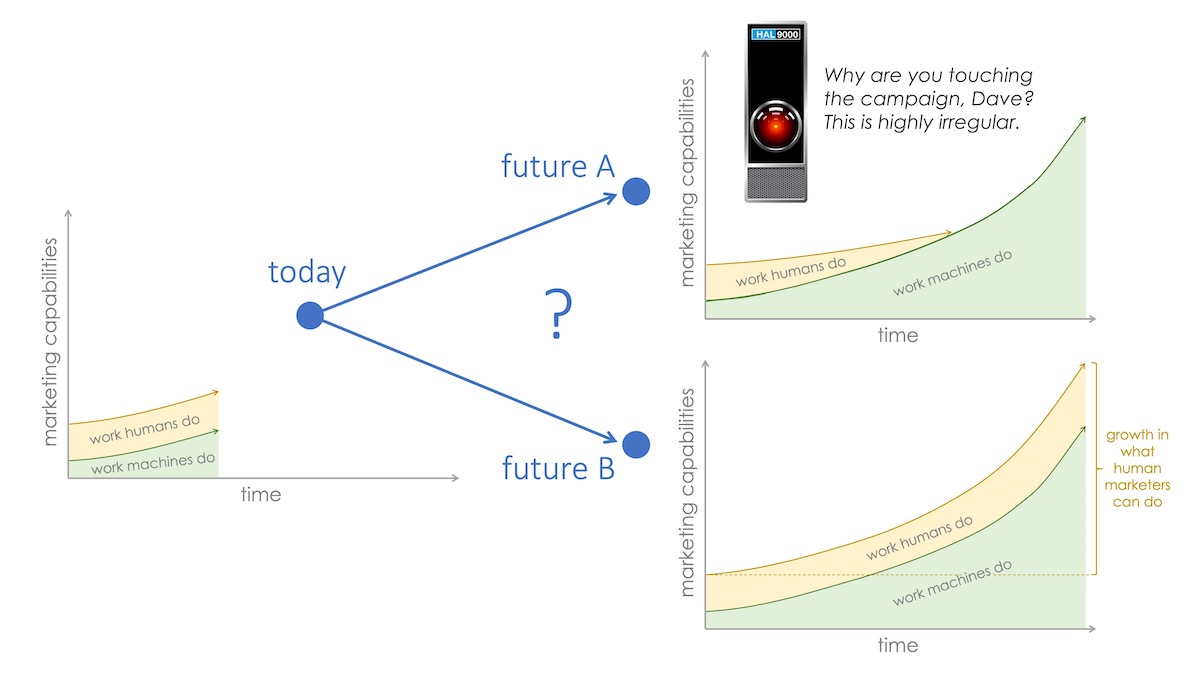 The fear of a dystopian scenario isn't totally unfounded. We are approaching a tipping point where a large number of jobs in the economy as a whole will be displaced by AI and automation. The effects of autonomous vehicles on employment in the transportation industry, for instance, will be hugely disruptive. But rapidly advancing machine learning will steadily encroach on many "knowledge worker" tasks as well, across every industry and discipline, including marketing.
To riff on Warren Bennis's quote about the factory of the future: the marketing department of the future might have only two employees, a human and a dog. The human will be there to feed the dog. The dog will be there to keep the human from fiddling with the marketing automation software.
However, we don't believe that scenario will happen in this decade. On the contrary, we think AI will give marketers the time and the tools to reach new heights in their profession.
MODEL MAKERS & MODEL BREAKERS
While machine learning is advancing quickly, its applications still tend to be narrowly defined. For certain marketing tasks, such as optimizing multivariate testing of content or optimizing ad spend, machine learning powered software can do a much better job than a human marketer at analyzing all the data in its model to determine the optimal decision.
But the big caveat is "in its model." Humans still largely determine the models and what data sources are fed into them. Humans also retain the unique advantage of being able to consider what is not in the model that should override the conclusions of the algorithm, finding solutions when models break, and recognizing outliers as potential seeds for new or revised models. Humans think outside the box (the model).
Two skills that marketers will develop in this decade: model making and model breaking.
Humans also decide when and where to deploy these models, setting the context in which they run. For multivariate testing of content, for instance, a human decides what content is going to be optimized and the parameters of variations, either providing explicit alternatives or setting boundaries on automatically generated ones. The human sets the goals for the optimization — a hierarchy of preferred actions and the characteristics of ideal customer conversions on them.
Many of these human-led decisions are about connecting the dots across a number of different tactical automations in the service of a larger strategy. For instance, aligning the automation for ad spend optimization for a campaign with the automation for multivariate testing optimization on the landing pages for that campaign. The Great App Explosion will grow the total number of such tactical automations under the umbrella of ops, raising the importance of orchestration.
Software will coordinate some of these tactical automations by using other automations at the next level up. However, as you go higher up, you encounter greater abstraction and ambiguity. Humans are much better at dealing with that than machines. This will limit how far automation goes before human perspective and judgment take over higher order challenges.
AI-AUGMENTED STRATEGY
Translating marketing strategy into automated big ops "programs" in such an environment will require expert human skill. And at the highest level, humans will continue to set overarching marketing strategy, synthesizing the myriad of the diverse inputs that go into its formation.
Marketers will complement the raw algorithmic horsepower of machine learning with strategic, contextual, and integrative thinking. Learning how to apply those talents effectively with a continuous wave of new technologies in the mix will be an important part of marketing career development moving forward.
Machine learning tools will increasingly suggest insights, interpret context, and apply meaning, putting more information at a marketer's fingertips with which to inform strategy and decisions. The sophistication of these tools on top of AI-based models will continue to widen in scope, giving marketers greater understanding of larger and more diverse sets of data.
Simulation will become increasingly common as a strategy tool, with marketers looking to understand different scenarios and gain insight into future actions. Presently marketers use variations of A/B testing and machine learning to experiment and optimize with real people (at some risk to an individual customer's experience). In future we'll use simulations with synthetic agents first, to test drive our brand and marketing creative, content, and communications.
Simulations are more than predicting trend lines or goal oriented machine learning. With the increase in computing power, millions of scenarios can be simulated to provide directional insight into what might happen in the real world with increasing levels of granularity.
CREATIVITY & AI
There are other human talents that will continue to be central to marketing's success beyond the realm of our machines. Broad-based creativity and imagination. Empathy with other humans for understanding and persuasion. Intuition from experience. Collaboration within the organization and across the boundaries of the firm with agencies, clients, and partners. The pursuit of meaning and purpose and effectively communicating it to others. Moral and ethical leadership.
The challenge for AI is that great marketing resonates with culture at a point in time. This isn't something AI is good at, as culture is entangled with a lot of complex dynamics in psychology, society, and contextual human experience that are hard to represent holistically in data. It's even hard for humans to do this!
Marketing as a craft and an art will continue, certainly throughout the 2020s, continually evolving based on culture and communication mediums available. At the same time, however, AI will increase in its abilities to assist humans in the creative process, using machines as force multipliers for human talent.
Creative applications use AI today to perform basic tasks that would traditionally take time and skill for a human to execute, such as precisely cropping people and objects in photographs. AI doesn't choose the subject or what to crop — or, more importantly, why. But AI makes the selection accurately, deftly blending and interpolating at the boundaries, and it does it near instantaneously. While this is a simple example, there will be hundreds of more AI use cases like this within the decade that every marketer will have at their fingertips.
"Compose an original uptempo music track for my 30-second commericial in a New York City techo style." Or, "Turn this doodle into an Impressionist-style painting as a background for a poster graphic." The prototypes of these capabilities are already available today.
It's the creative arts parallel to "no code" development.
AI will also support the creative process with increasingly powerful search and analysis tools. "Show me all assets where Brand X appeared with a mountainous landscape and a lake in the foreground" is something a creative director might want to know. Yesterday, that was a difficult question to answer, requiring staff to laboriously hunt through files and directories. Today, search engines on DAM platforms make this much simpler, as AI automatically classifies objects and people in all creative assets. Tomorrow, image and video classification engines will enable even more novel and complex searches to be conducted on-the-fly. Further, AI computer vision will automatically confirm brand compliance as these assets are deployed in context in the wild.
So many marketing activities that have been expensive, inefficient, or impractical for humans to do manually will be made cheap, fast, and easy with AI-powered software — but still applied at the direction of marketers. Marketers will take advantage of these capabilities to free up more time to focus on their uniquely human contributions and to render ideas that were previously out of reach due to a lack of time, skill, or budget.
It will be the age of "augmented marketers."
AUGMENTED CUSTOMERS
But it's not just marketers who will be augmented by machines. We believe this decade will see a significant explosion in software being used by consumers and B2B customers to give them greater control and leverage over their relationships with brands and vendors.
Price comparison apps such as Honey and coupon finders such as Shopular reduce the search costs for consumers to find the best deals. Crowdsourced review sites such as Yelp, Tripadvisor, and Angie's List help them evaluate who they will buy from — not based on what marketers at those businesses say, but what other customers report. Such review sites are becoming a part of B2B buying as well, such as G2 for comparing software and services.
Yet even brands with the best deals and the best reviews can have their marketing deflected by consumer-side software. One example of this has been ad blocking software, where hundreds of millions of users installed blockers on their computers and mobile devices that short-circuit even highly-targeted marketing campaigns.
Marketers will need to understand the technologies their customers are wielding so that they can successfully engage with them through their software-based assistants and gatekeepers. Marketing will be as much about "customer tech" as it is martech, as the interactions between companies and customers will be augmented by machines on both sides. Interplay between buyers' and sellers' software will be a source of new, complex risks and opportunities.
Three modes of buyer/seller interactions that will need to be architected in marketing and sales operations of digital business are:
Human-to-human: phone calls and video calls, one-to-one emails and videos, in-store or at-event meetings, on-location visits, and live discussions via chat and messaging platforms (often as a hand-off from a bot). These modes of interaction between brands and customers will remain important, especially in services and relationship-driven businesses. But while humans will play the leading roles on both sides, software will play a significant supporting role too — orchestrating these interactions and providing decision support to both buyers and sellers. Sales representatives will be coached in real-time by AI-powered software making personalized recommendations and offering tailored sales enablement content. Meanwhile, customers will have their own AI-powered "advisors" helping them evaluate their options and negotiate for the best deal.
Human-to-machine: ecommerce and AI chatbots, where human buyers primarily interact with software on the seller's side — the online store or bot conversation experience. Humans on the seller's side play a supporting role in those interactions, by designing and managing these experiences and intervening when customers need assistance. But in this mode too, buyers will lean on their own software to optimize their purchases and increasingly oversee fulfillment and ongoing vendor relationship management.
Machine-to-machine: buyers will delegate purchasing to their own AI-powered agents at a high level, which will "negotiate" with software agents on the seller's side through APIs or with an AI that scrapes and automates the seller's human-facing interface. We can call this "bot commerce." This will require a different kind of "experience" design and optimization by marketers. Instead of just UX (user experience) design for humans, it's BX (bot experience) design for the variety of software agents interacting with a brand. Search engine optimization (SEO) is an example of this kind of marketing that plays to an audience of machines, as a way of reaching customers.
DATA = MACHINE-TO-MACHINE MARKETING
Whether serving in leading or supporting roles, software on the buyer's side will grow to wield enormous influence over business outcomes. Marketing to machines will be a key dimension of marketing operations in this decade. And how do you best market to machines? Through data. Publishing the right data, the richest and most useful data, that's discoverable, timely, accurate, and available in the channels and formats they prefer. This is one of the missions of big ops.
Harmonizing the collaboration between humans and machines will be one of the most exciting and innovative aspects of marketing over these next ten years. It will introduce new complexity to marketing's environment, but martech software will evolve to help manage that complexity. This period of constant innovation will also ensure there is no lack of opportunity for humans to add value in the continually shifting discipline of marketing.
The way machines will take your job in marketing is if you fail to keep up in learning how to use them.
Continue reading with Conclusion: The Age of the Augmented Marketer. You can also download the full paper at any time.
Get chiefmartec.com directly in your inbox!
Subscribe to my newsletter to get the latest insights on martech as soon as they hit the wire. I usually publish an article every week or two — aiming for quality over quantity.