What can marketers learn from software developers to harness — rather than struggle against — the dynamics of a digital world?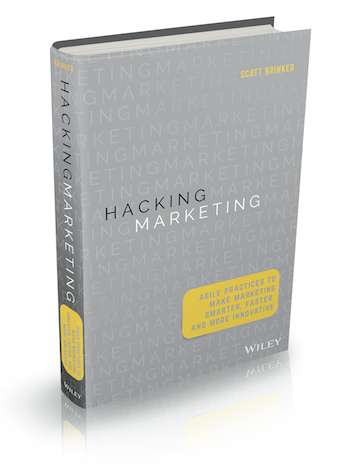 I made a passing reference to this when announcing the upcoming MarTech conference, but I'm excited to make it official:
I've written a book called Hacking Marketing that will be published by Wiley next month, to be released on March 21, and I'm very eager to share it with you.
My goal was to help marketers at all levels — even those with no technical background or inclination — adapt marketing management to the wild and wonderful whirlwind of a world now dominated by software.
My underlying thesis: as marketing becomes more and more entangled in software — as everything becomes more and more digital — the art of managing marketing increasingly resembles the art of managing software.
For most people (but perhaps not regular readers of this blog), that probably sounds a little strange. After all, marketers and software developers have historically been on opposite ends of the career spectrum.
But when you realize that marketers are now paddling water up to their chins in websites (software), analytics (software), social media (software), marketing automation (software), interactive content (software), mobile apps (software), and so on, it starts to seem obvious. Software has eaten the world — and marketing too.
And this is actually a really good thing.
Software gives us the potential to innovate and scale marketing in highly agile ways that defy the conventional laws of gravity as we knew them in the classical marketing universe.
But it's like the leap from Newtonian physics to quantum mechanics — the "rules" of what's possible are different and can feel a little counterintuitive. To effectively harness the digital forces of software, we must not only innovate what we produce in marketing, but innovate how we produce it too.
It's time to rethink marketing management for a software-powered world.
Stealing Borrowing Great Ideas from the Software Community
The good news is that, as marketers, we don't have to figure this out from scratch. From the introduction of Hacking Marketing (which you can download as a "sneak peak" PDF):
Marketing is not the first profession to struggle with digital dynamics. Before any other discipline found itself roiled by digital turbulence, software development teams ran into many of these issues first. Continuously changing requirements. Rapidly evolving technology. Mounting complexity. And demanding stakeholders who had little appreciation for those difficulties.
Software developers have been the canaries in this coal mine. Through trial and error in millions of software projects, successes and failures, they have discerned some of the underlying patterns of what works and what doesn't — and why — when wrangling the digital dragon. As a result, the art and science of managing software has matured tremendously.
So what does this have to do with marketing?
More than you might think.
The challenges of creating great software and the challenges of creating great marketing share increasing similarities in a digital world. They're both juggling an explosion of digitally powered interactions in a tornado of constant change and innovation. They're both creative and intellectual disciplines that rely on human insight and inspiration, and a new kind of teamwork, to produce remarkable experiences in highly competitive environments. And as the world has grown more digital, the scale and scope of their responsibilities and influence have grown too — but at the cost of mushrooming complexity.
Given those parallels — and the head start that software leaders have had wrestling with these challenges — are there successful, digitally native management concepts from the software community that modern marketers could borrow and adapt to conquer their own digital dragons?
I believe the answer is yes.
Hacking Marketing is organized into five parts:
PART I: MARKETING ≈ DIGITAL ≈ SOFTWARE lays out the multi-layered relationship between marketing and software in today's digital world. It defines the five digital dynamics (speed, adaptability, adjacency, scale, and precision) that have changed the levers of marketing management — and illuminates how those dynamics have infilitrated marketing through the ubiquity of software in every facet of our profession.
The first few chapters reveal the surprising truth about how most marketers are "software creators" already — they just don't necessarily realize it. It illustrates the many similarities between the modern day revolution underway in marketing and the management revolution in software that began two decades ago — to demonstrate why there's so much opportunity to cross-pollinate ideas from one to the other.
One of the best examples of how marketing can successfully borrow management concepts from the software community has been the adaptation of agile software development methods to agile marketing, so we start there…
PART II: AGILITY, the largest part of the book, is a thorough guide to agile marketing. How to run marketing through "sprints" that operate on a cadence of weeks instead of months. How to use Kanban boards to visualize workflow and coordinate a large number of priorities and work-in-progress. How to structure agile teams to empower individuals without disconnecting executive leadership. How to continuously evolve the processes of how teams work, not just what they work on, through retrospectives.
In addition to teaching the core pratices of agile marketing, I also explain the spirit behind those practices — so marketers can be agile, not just do agile.
Using iterative thinking to drive experimentation. Framing marketing tasks through customer-centric stories. Understanding how to apply strategy and quality control in an agile context — it's a false dichotomy to think that those objectives are inherently opposed.
As an advocate of agile marketing for 7 years, I've heard many of the common questions that executives raise in shifting to agile management, and I've incorporated those answers into the narrative — to help marketing teams of all sizes increase their management metabolism.
PART III: INNOVATION recognizes that agility enables marketing teams to innovate more easily — but that's only a part of the equation. There are many other aspects of managing an innovation pipeline that marketers can borrow from the world of software R&D.
Marketers today have a greatly expanded creative toolbox that goes beyond media and messages — the art of communication. Today marketers also design and control mechanisms — the ways in which customer touchpoints function and behave.
With these new mechanisms, the common threads between the art of customer experience (CX) in marketing and the art of user experience (UX) in product management have blossomed.
We can learn a lot from this analogy for employing prototyping, beta testing, continuous deployment, collaborative design, and more in marketing management. Hacking Marketing describes how to embrace these approaches in a non-technical way.
There's also an entire chapter dedicated to the concept of "big testing" — how to turn the raw material of big data into productive marketing results at scale. Speaking of which…
PART IV: SCALABILITY tackles the challenge of scale. Modern marketing is under tremendous pressure to balance two opposing forces: continuous innovation and dependable scalability. Yet the management dynamics that each of those demand are very different. How can we solve this paradox?
We start by borrowing the notion of bimodal IT and reshaping it to a framework for bimodal marketing — operating two different management engines at the same time: one for experimenting on the "edge" of marketing innovation, and another for rock-solid dependability in the "core" of marketing operations.
We then go on to adapt platform thinking in the context of marketing, including a 2×2 grid for balancing diversity and cohesion across an ever-growing range of marketing touchpoints and responsibilities.
Finally, we address the difficulties of complexity that so many marketers wrestle with in today's fragmented and rapidly changing environment. We distinguish between essential complexity — the inherent sophistication that modern marketing now demands — and the accidental complexity that creeps up on us through the widespread adoption of marketing software. Hacking Marketing gives you strategies to tame both.
PART V: TALENT wraps up by connecting everything back to the most important factor in modern marketing's success: its people. We examine the "myth of the 10X engineer" — why it's been claimed that the very best software developers are 10X more valuable than average programmers — and show how the convergence of marketing and software have now set the stage for 10X marketers.
Marketers today are at an incredible nexus of multi-disciplinary talent, nearly unlimited opportunities to apply that talent, and the leverage of software in a digital world that can multiply the effects of that talent. This is what enables the potential of 10X marketers and a flexible new breed of "full-stack marketers."
A new approach to marketing management can unleash that potential. Hacking Marketing shares the best of what I know about how to make that happen.
Special Offers for Advance Orders and Bulk Orders
If this book sounds intriguing to you, and you would like to order a copy, I would be incredibly grateful if you would consider placing an advance order. The first week of book sales — including all advance orders — matters a lot in the publishing world for counting towards best-seller lists.
I know, it's probably a stretch to imagine that a book on marketing technology management by a marketing geek blogger like myself would become a best-seller — but, hey, it would be pretty cool if it did. You could help make that happen.
To help, please place your order on Amazon, Barnes & Noble, or Books-A-Million by March 21.
As a token of my appreciation — and as an extra little incentive — I have two bonus items that I will share with everyone who places an advance order:
BONUS ITEM #1: Hacking Marketing Illustration Collection. While the book includes several dozen black-and-white line drawings to illustrate key ideas, I've taken a dozen of what I believe are the most powerful concepts and created full-color, watercolor-style drawings of them. I'll email you this collection of hi-res images, in 16×9 form factor that's perfect for slides, with my permission to use them in your own presentations and online content publishing.
BONUS ITEM #2: Invite-Only Webinar of Hacking Marketing Q&A. After you've had a chance to read the book, I will schedule a private webinar in April or May that only the people who placed advance orders will be invited to. A couple of weeks before the webinar begins, I'll email you to solicit your questions. For the most popular — or most interesting — ones, I'll prepare good answers and discuss them candidly for that 45-minute special webinar.
To collect your bonus items, simply forward a copy of your receipt of your order via email to preorders@hackingmarketing.com. I'll email the illustration collection to you by the end of March and notify you of the private Q&A webinar in April.
If you decide to do this, thank you so much for your support! It means a lot to me.
Interested in sampling a bit of the book first? You can download the table of contents, introduction, and first chapter as a free PDF, to get a better sense of its content and style.
Now, for those of you who might be interested in bulk purchases in advance — either to have the book shared with a whole group inside your company or provided as part of a conference or seminar — I'm happy to offer the following "extras":
ORDER 30 OR MORE ADVANCE COPIES
I'll provide a 30-minute conference call or Google Hangout with you or your group to talk about Hacking Marketing, answer your questions, or discuss any aspect of the fascinating intersection of marketing and technology that you would like.
ORDER 60 OR MORE ADVANCE COPIES
I'll provide a 60-minute conference call or Google Hangout with you or your group to talk about Hacking Marketing, answer your questions, or discuss any aspect of the fascinating intersection of marketing and technology that you would like.
ORDER 250 OR MORE ADVANCE COPIES
I'll prepare up to a 60-minute webinar that I will deliver, either to your company or on behalf of your company, around the themes of Hacking Marketing that you think are most relevant to your audience. You can use this webinar as a customer marketing tool if you would like — any leads generated are exclusively yours.
ORDER 500 OR MORE ADVANCE COPIES
I'll fly anywhere in the continental U.S. to deliver up to a 60-minute in-person presentation, either to your company or on behalf of your company, around the themes of Hacking Marketing that you would find most compelling for your audience.
For these larger bulk orders (200 copies or more), email preorders@hackingmarketing.com to get a discount quote on your purchase.
These offers are only valid for orders placed on or before March 21, 2016. But if you have something else in mind, or if your timing for a purchase would have to be later in the year, please email preorders@hackingmarketing.com with details about what you'd like to do, and I'd be glad to discuss such opportunities with you.
Advance Praise for Hacking Marketing
Here are several of the amazing marketing leaders — many of my heros — who graciously reviewed an early copy of Hacking Marketing and generously offered these remarks:
"Marketing is going through a seismic change. The change is driven by consumers who are no longer passive in their relationship with brands, technology and data. Hacking Marketing provides a brilliant road map on how to evolve the capability and culture of marketing practices using parallels from the most disruptive industry in the world, the software industry."
– Ram Krishnan, SVP & CMO, PepsiCo
"Hacking Marketing not only creates a compelling model for how to think about the intersection of marketing and our digital world, it helped me re-think the way I approach my role as a CMO. I've asked my entire team to read it."
– John L. Kennedy, CMO, Xerox Corporation
"We've long talked about how marketing success is based on the experience it delivers, and now Scott Brinker lays out a terrific manifesto about how to rethink the operations underlying it. He uses his encyclopedic knowledge of the marketing technology world to nail the parallels between marketing and the emerging practices in software development — agile, fast, open, iterative — and translates them in practical approaches to driving change in one's own company."
– David C. Edelman, Global Co-leader, McKinsey Digital, Marketing and Sales, McKinsey & Company
"No business function today is more dynamic than marketing. Hacking Marketing is a must-read operating manual for CMOs who want to lead in the digital age."
– Ajay Agarwal, Managing Director, Bain Capital Ventures
"We are all digital now. Scott makes it easier than ever for smart marketers to ask the right questions and to discover what they need to know now."
– Seth Godin, Author, All Marketers Are Liars
"An original take on how the management of marketing must transform to keep pace with our increasingly digital world. It's a must read for anyone looking to stay relevant in this modern marketing era."
– Ann Handley, Chief Content Officer, MarketingProfs
"An inspiring read for anyone who wants to master the art and science of modern marketing management, from the practice of lean and agile marketing to the design of a scalable engine for marketing innovation."
– Mayur Gupta, SVP and Head of Digital, Healthgrades
"The CMOs of tomorrow will be very different from the ones of yesterday. Scott shows how great marketing management today is closer to modern software development than the marketing of yesterday and helps marketers understand how to incorporate those principles to succeed."
– Rishi Dave, CMO, Dun & Bradstreet
"The truth is that marketing has changed, more than almost any other profession, and the majority of marketers have no idea how to effectively manage the process. Hacking Marketing gives you a flashlight and shows you the truth so you never have to look back again."
– Joe Pulizzi, Founder, Content Marketing Institute
"I am a strong believer that agile has to be the foundation of any successful marketing team. Agile will allow marketing executives to have more visibility, increased productivity and higher profitability. Scott's book provides timely insight into how to make a shift to agile marketing."
– Joe Staples, CMO, Workfront
I hope you'll consider placing an advance order. Software-based agents are standing by: Amazon, Barnes & Noble, or Books-A-Million. More importantly though, I hope you find it to be a thought-provoking and inspiring read, helpful in your own journey along the interwoven paths of marketing and technology.
Thank you — especially to the incredible #MarTech community who has been so inspiring.
P.S. If you want to hear about Hacking Marketing in person, and have a chance to talk with me about these topics, be sure to register for the MarTech conference in San Francisco, March 21-22. "Beta rates" for tickets expire this Saturday!
Get chiefmartec.com directly in your inbox!
Subscribe to my newsletter to get the latest insights on martech as soon as they hit the wire. I usually publish an article every week or two — aiming for quality over quantity.