Wow, I've got so much to share from last week's MarTech conference in San Francisco. The speakers, sponsors, and moderators were all fantastic — as were the incredibly enthusiastic attendees. I'm so grateful to all of them.
However, let me start with a little levity.
Tom Fishburne, the Marketoonist, gave a terrific keynote presentation to kick off our program on Thursday. As part of this, he shared his favorite entries from the "caption contest" we ran for his MarTech cartoon. Here were his top 10 and the names of the people who submitted them:
And the winner — who received a framed, signed version of their caption in Tom's cartoon: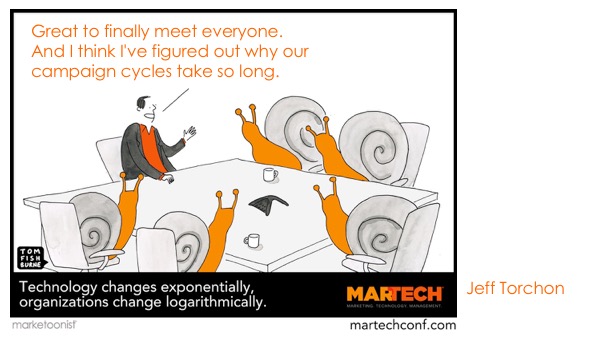 Tom really was fantastic. I'd highly recommend him.
Get chiefmartec.com directly in your inbox!
Subscribe to my newsletter to get the latest insights on martech as soon as they hit the wire. I usually publish an article every week or two — aiming for quality over quantity.