So many projects converged for me at the MarTech conference this week in San Francisco. An amazing cast of speakers and sponsors, who knocked it out of the park (thank you!). The release of the 2016 marketing technology landscape. The shipping of Hacking Marketing.
But my favorite was the unveiling of the 2016 Stackies Awards.
41 marketing teams, at companies large and small, B2B and B2C, invested time and effort to each create a single 16:9 slide that visually represented their marketing technology stack — illustrating the way they organized it, operated it, or thought of it in a strategic framework — and agreed to openly share those visualizations with the entire marketing tech community.
I know I speak for everyone who reads this that we are immensely grateful to these contributors for sharing their stacks — including, in almost all cases, the specific products that they're using. It's so helpful to see such a large collection of well-structured marketing technology stacks, viewed through a variety of different conceptual lenses. THANK YOU!
Here is the full slide deck of all 41 entries, which you are free to download:
Because so many of these entries were so good — great thinking, great design — it was very difficult to choose 5 winners. Frankly, almost all of the entries this year deserve an award. And since the only thing that really matters for a marketing stack is how effective it is for the company running it, any other "judging" of them should be taken with a grain of salt.
If your marketing stack is working well for you, it's an A+ stack.
However, having awards for the Stackies does make it more fun, to celebrate the great work that people have done with these visualizations. The entries we selected as winners each demonstrated a particularly insightful way to think about one's marketing technology stack.
The different "lenses" of looking at your marketing stack that each of these winners shared aren't mutually exclusive — indeed, it can be a valuable exercise to look at your own stack through each of them.
Each of the winners was invited to nominate a chairty that the MarTech conference would make a $1,000 donation to in their name. The charities they chose:
The winners, in alphabetical order:
Acrolinx for their 5 C's model of organizing a marketing stack — Contacts, Connections, Content, Customer Data, Collaboration: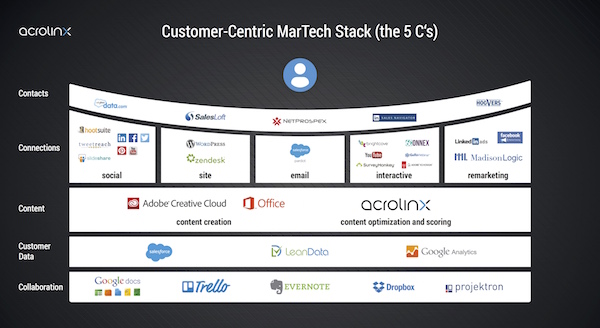 Connective DX for their ideas of visualizing a marketing stack around an iterative journey map, with layers for Delivery, Data & Insights, and Operations at each stage:
Delphic Digital for their concept of illustrating a marketing stack as a two-dimensional matrix, indexing marketing capabilities with marketing technology products, making it easy to identify cross-capabilitiy platforms and specialized capability point solutions:
PitchBook Data for their approach of mapping out high-level marketing processes in a flow chart and recognizing key marketing technologies along each of those paths:
Uberflip — who also won last year — for organizing their marketing stack according to their four-pillar system of Creation, Experience, Distribution, and Insights, mapped in concentric circles from Content, to Demand Generation, to Sales & Customer Success.
Again — a deep, heartfelt thank you to everyone who contributed to the Stackies this year. You've helped advance the practice of marketing technology management.
Get chiefmartec.com directly in your inbox!
Subscribe to my newsletter to get the latest insights on martech as soon as they hit the wire. I usually publish an article every week or two — aiming for quality over quantity.