We kicked off MarTech East in Boston on Monday with an awards ceremony for The Stackies: Org Edition.
While the previous versions of this awards program encouraged marketers to share visualizations of their marketing technology stacks, this one invited people to share ideas about how their marketing organizations are conceived.
We wanted to shed light on the people-process points on the golden triangle of people-process-technology — and how they're evolving with what new technology makes possible.
Admittedly, this was a big ask. Most companies aren't used to publicly revealing how they structure or operate their marketing departments. Traditionally, it would have been taboo to publish your org chart out in the open.
But we were hoping that a few bold executives would be willing to share their ideas on modern marketing organizations with the community. It didn't have to be a classic org chart. In fact, the label of "org stack" was intentionally vague, to let people visualize facets of their organizational capital in new and imaginative ways.
And they did! I am incredibly grateful to the 12 marketing leaders who contributed entries to The Stackies: Org Edition. Here are all 12 entries (you can click on any of them for a larger, high-resolution version of their "org stack" graphic):
CA Technologies
CA Technologies, a $14 billion global software company, shared the above graphic. Arguably, it's more of a tech stack than org stack, but it does a great job of mapping specific marketing technologies to the four quadrants of the organization that they see touched by martech.
The most interesting aspect of this? Those four quadrants. You have (1) Marketing Technology & Ops and (2) Field, Product & Corporate Marketing — but you also have (3) Digital Sales and (4) Customer Success. They see it as a cycle of acquire, retain, compete, and migrate.
"Martech" connecting marketing, sales, and service — this is cross-org digital transformation.
Reduxio
Reduxio is a hot new storage and data management company based in the U.S. and Israel. Their CMO graciously shared this "flex org stack" that illustrates how their marketing team of ~7 people work together, even while physically distributed across four continents. (Turn the map on right 90° to the left to see where they're located.)
Everything revolves around the customer, at the center, spreading out to prospects and the IT community at large. They organize marketing around three overlapping spheres: (1) Product and Design, (2) Growth Marketing, and (3) Sales "Wow".
As you move outward on their graph, you can see how those spheres translate into specific activities and responsibilities — all the way out to the dots on the perimeter that represent individuals on the marketing team (each with their own color).
Note the cross-org interconnections between marketing, product, and sales.
Allocadia
Allocadia is a leading marketing performance management software company. They participated in the marketing tech Stackies earlier this year — and won an award for their entry, which showed the collection of different technologies that they use to both "run" and "do" marketing.
Their excellent org stack above builds on that by mapping the different functional areas of marketing and where they operate on the Run-Do loop. On the "Run" side: Marketing & Sales Performance Management and Marketing Operations. On the "Do" side: Product Marketing, Customer Marketing & Advocacy, Demand Gen, Content, Digital, and Buzz.
Again, there's a tight connection between marketing and sales — with the customer at the center — through joint Marketing & Sales Performance Management.
Uberflip
Uberflip offers a cool content experience platform, and they too have entered — and won! — previous marketing tech Stackies awards. Multiple times, actually. They always do a terrific job of visually articulating their ideas.
Their org stack entry above carries on that fine tradition, beautifully illustrating the different facets if their marketing organization, structured around the customer journey, in a cool pinwheel metaphor: know, like, trust, buy, and repeat. I like how they've connected their tech stack as the backbone supporting that pinwheel.
Continuing the theme I keep highlight: the whole purple quadrant in the upper left is focused on harnessing post-sale customer experience.
Dun & Bradstreet
Dun & Bradstreet, one of the world's leading data companies, was one of the first three companies to enter this awards program with the above org stack. (Thank you!)
Their CMO, Rishi Dave, not only championed sharing this illustration — he also joined me for a keynote fireside chat to discuss it with the audience at MarTech East.
My favorite part of this org stack is the focus on "tiger teams" — cross-discipline teams that hone in on specific customer segments. It's a brilliant way to break out of functional silos and focus on the customer. Martech staff embed themselves in these teams
New England Journal of Medicine Group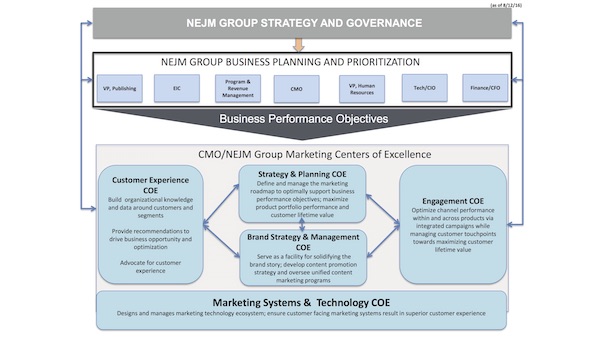 Not all the entrants were technology companies. I was thrilled to see The New England Journal of Medicine Group share their org stack with us.
It's fascinating to see how they've structured marketing around six interconnected centers of excellence (COE): Customer Experience, Strategy & Planning, Brand Strategy & Management, Engagement, and Marketing Systems & Technology.
I really like the mission of the Marketing Systems & Technology COE: design and manage their marketing technology ecosystem and ensure that customer-facing marketing systems result in superior customer experience.
Again, going back to the common theme I want to highlight: I think it's fantastic that they have an entire Customer Experience COE. I think it's important to note that it's different than their Engagement COE. One looks at experiences through the eyes of the customer (advocate!), the other through the eyes of the marketer (optimize!).
MarketOne
MarketOne is a full-stack demand generation agency. With their org stack, they mapped out the different aspects of what they envision as "Demand Center 2.0" — starting with insights feeding a core strategy with solid analytics.
I interpret the rings placed towards the center to be the foundations on which outer rings of capabilities are built. One martech-specific idea to note in that view is that data integration and data governance underpin technology integration and technology governance at the next level up. I think this is very smart: data is (or should be) the more permanent asset.
Internet Solutions (with Boardview.io)
The team at Boardview.io created the above org stack for Internet Solutions, a leading Internet agency headquartered in South Africa. I love the way they directly connect organizational elements with technology tools.
Boardview.io actually has an incredible blog post on a series of martech stack canvases that they designed — a collection of brilliant ways to visualize a blend of technology architectures and organizational capital in marketing. They've been a big champion of agile marketing, and it shows in the way they think about the interplay between these forces.
Enthusem
Enthusem specializes in automated offline-to-online marketing solutions. Their org stack is organized into four quadrants: Creative, Operations, Lead Generation, and Customer Service.
From the view of martech, it's great to see what they've clustered in that Operations quadrant under the leadership of a Director of Tech & Ops: customer data, web development, marketing analytics, budgeting & planning, and marketing automation.
Back to our common theme: marketing, sales, and customer service are orchestrated together in this view of their organization.
4INFO
4INFO is an ad tech platform that helps brands reach very precise audiences across mobile devices and desktops. As a company that specializes in digital identities, it makes sense that they would contribute an org stack that revolves around prospect and customer identities — data, activation, attribution, and insights.
While this slide reveals some interesting depth to the kinds of solutions that 4INFO offers, I admit, I would have loved to see a clearer connection with how those capabilities are mapped into organizational functions.
TOPdesk
TOPdesk, a global service management software company, was also one of the first entrants into this awards program with their org stack above. (Thank you!)
Their visualization is a kind of classic org chart, but I found it very interesting for two reasons: (1) they explicitly have both web designers and web developers working under marketing and (2) their online marketing team leads use Scrum for agile marketing.
It's a great testament to blending marketing and technology organizational elements.
B2B Marketing Flywheel
Last but definitely not least, I want to thank Todd Ebert, who submitted the very first entry to this program with the above B2B Marketing Flywheel org stack.
I think this is an excellent framework for organizing a modern B2B marketing organization, based around four key clusters of capabilities: Product Marketing, Demand Generation, Sales Enablement, and Brand/Reputation Building. Todd details the key activities he sees within each of these groups, and also shows how they link to other departments.
Appropriately, we close with the theme-of-the-year: connecting marketing, sales, and product together.
The Winners & $5,000 Donation to Women Who Code
We selected five winners from these entries to receive Stackie trophies at our opening ceremony on Monday evening.
The winners are pictured to the right: Allocadia, CA Technologies, Dun & Bradstreet, Reduxio, and Uberflip.
The editorial team here thought that those five "org stack" entries did the best job of communicating their ideas.
However, it's important to note that a winning org stack in the real world is simply one that works well for your business. With due respect (and much gratitude!) to our winners, it doesn't matter how pretty your real world org stack is. All that matters is that it's effective.
As part of The Stackies: Org Edition awards, we agreed to donate $100 for every entry to Women Who Code.
However, since 12 entries only added up to $1,200 — which is barely enough to buy an iPhone these days — the generous teams at Third Door Media, who produce the MarTech conference agreed to "round up" to a $5,000. (Hopefully for future Stackies Awards, we can outdo that in actual entries!)
Again, my deepest thanks to everyone who participated. I hope you find inspiration in the ideas they shared above.
Get chiefmartec.com directly in your inbox!
Subscribe to my newsletter to get the latest insights on martech as soon as they hit the wire. I usually publish an article every week or two — aiming for quality over quantity.