At the MarTech conference in Boston earlier this month, we unveiled the winners of The Stackies: Org Edition.
12 companies contributed slides illustrating how they approach their martech-enabled organizations, including Allocadia, CA Technologies, Dun & Bradstreet, The New England Journal of Medicine Group, Reduxio, and Uberflip.
But not everyone was comfortable publicly sharing how their marketing organizations are structured. I understand. After all, "org charts" have traditionally been considered confidential.
(Ironically, in the past, most marketing org charts all kind of looked the same; and in the present, you can pretty much map out any company's org chart simply by digging around in LinkedIn. But traditions don't change easily, especially when legal and HR are involved.)
However, I am immensely grateful that 275 marketing leaders participated in our marketing org study that we ran at the same time, where they could anonymously describe the structure of their marketing department — in quite some detail — especially with regard to marketing technology and marketing operations.
Here are the first set of findings from that study.
Reorganizations and Marketing Technology Leadership
We know that marketing is changing rapidly (see Martec's Law). But as quantifiable evidence of that turmoil, 60.7% of marketers reported that marketing and/or IT are being reorganized to better leverage marketing technology (see the chart at the top of this post).
One outcome of these reorganizations is that there is increasingly a "head of marketing technology" — 74.18% of our participants reported that they already have someone explicitly in charge of marketing technology or plan to have someone within the next 12 months.
As a follow up, we then asked: in which department does the person in charge of marketing technology report? This might sound a little like the old Groucho Marx quiz of, "Who's buried in Grant's tomb?" But the answer wasn't always obvious, as sometimes these roles lived in IT or digital groups outside of marketing.
It's obvious now: 89.15% have the head of marketing technology work in marketing.
Now, you might suspect that my data is biased, as I tend to hang around in circles with lots of marketing technologists. (Good for you for questioning the sample from which a statistic was generated!) Do most companies really have heads of marketing technology?
But coincidentally, the team at Technology Business Research (TBR) recently shared some of their research data with me, which showed that over 75% of enterprises now have an internal executive responsible for bringing marketing technology into business units and leading adoption (click the image for a larger version).
It's a different sample, but it delivers the same conclusion: having someone in charge of marketing technology is becoming a common function in modern organizations. Marketing technologists are becoming a real profession.
Marketing Technology and Marketing Operations
About 60% of organizations have a head of marketing operations (sorry, I should have also asked how many plan to add a head of marketing ops):
One of the organizational patterns that I've noticed, at least anecdotally, over the the past year has been marketing technology and marketing operations increasingly being combined into the same team. I think this makes a lot of sense, although there are many different specialities underneath that umbrella — analogous to the differences between CIOs (more business) and CTOs (more technology) in IT organizations of the past few decades.
So we asked participants who reported a head of marketing operations:
Is the same person in charge of marketing tech and marketing ops?
Are two different people in charge of marketing tech and marketing ops?
Or there's only someone in charge of marketing ops, no one explicitly in charge of marketing tech?
For 45.3% a single person was in charge of both marketing tech and marketing ops, where for 27.3% these were two separate roles.
Marketing Technology Teams & Responsibilities
So for someone in charge of marketing technology (even if they're also in charge of marketing operations more broadly), what doe their teams look like? What are their responsibilities?
For those who are large enough to have a team that works under the head of marketing technology, we asked participants to list the roles/titles of the people who report to them. While this was a good strategy for getting detailed responses, it did make it hard to get a quantitative analysis of how these roles were structured.
By manually going through each respondent's answers, I aggregated by hand what were generally four groups of roles underneath the head of marketing technology: Applications, Infrastructure, Development, and Analytics/Data.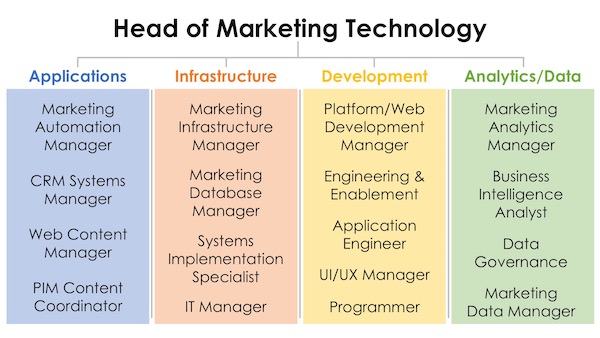 The above chart shows some of the representative titles of people in each of these groups who report to the head of marketing technology. Marketing operations had its own set of functions groups under its heading, which I'll address in a future article, but as you might expect, there was overlap primarily in the Applications and Analytics/Data roles.
Applications team members were mostly focused on operating and supporting their respective tools: marketing automation, content management systems (CMS), CRM, digital asset management (DAM), product information management (PIM), etc.
Infrastructure team members were a more technical group, building and maintaining databases and integrating systems together. These were roles that classically would have been based in the IT department, but are now showing up in marketing technology teams that live under the CMO's organization. Fascinating, eh?
Development team members were generally tasked with building websites, web apps, mobile apps, and other internal applications. I expect this group will be building out chatbots and voice-assistant skills and experimenting with AR/VR apps in the year ahead too.
Both software engineers and UI/UX professionals appeared in this marketing-based Development group, which I think is evidence of the growing convergence between marketing and product in a digital world. For what it's worth, I love the title "engineering & enablement" as somebody's role in the marketing department.
So collectively, what is the head of marketing technology (and his or her team) responsible for? (Click on the graphic below for a larger, more readable, version.)
Not surprisingly, the #1 responsibility (88% of the respondents) is to research and recommend new marketing technology products. This is closely followed by the responsibility to integrate, operate, train, and support those products throughout the marketing organization.
Essentially, 75% of marketing technology teams have those responsibilities. Makes sense.
It's interesting to see how responsibilities slowly start to trail off below that cluster of their core mission. Still, the majority of marketing technology leaders also have responsibility for:
technical reviews of products
monitoring data quality
monitoring performance SLAs
architecting the overall marketing stack
sundowning old/unused systems
negotiating business terms for martech purchases
integrating martech products with non-marketing systems
consolidating duplicate instances of martech products across the enterprise
These are not trivial responsibilities, and the breadth and depth of these activities is further evidence of marketing technology progressing as a real profession and a fundamental part of any modern marketing department.
While not quite the majority, I also found it remarkable that 48% of marketing technology teams customize the martech products they purchase.
I'm intrigued by two implications of that stat. First: marketing technology teams have those capabilities. Second: marketing teams are not having their needs fully met by out-of-the-box marketing software.
Finally, I was surprised — and frankly a little horrified — that most marketing technology teams don't take responsibility for data privacy and compliance reviews or security reviews of marketing technology product.
The optimistic answer is that those responsibilities are being governed by the IT department, not the marketing tech team — which provides more objectivity and a mechanism for "checks and balances" across the organization.
The less optimistic answer is… well, this is something that marketing technology teams are going to need to pay a lot more attention to in the year ahead.
P.S. Obviously smaller companies aren't going to have all these martech roles, at least not explicitly. In some cases, one person will wear multiple hats. In others, certain capabilities won't even be needed when a marketing team is at a smaller scale. And still in other cases, some of these capabilities can be acquired through relationships with service providers or on-demand outsourced talent.
Get chiefmartec.com directly in your inbox!
Subscribe to my newsletter to get the latest insights on martech as soon as they hit the wire. I usually publish an article every week or two — aiming for quality over quantity.