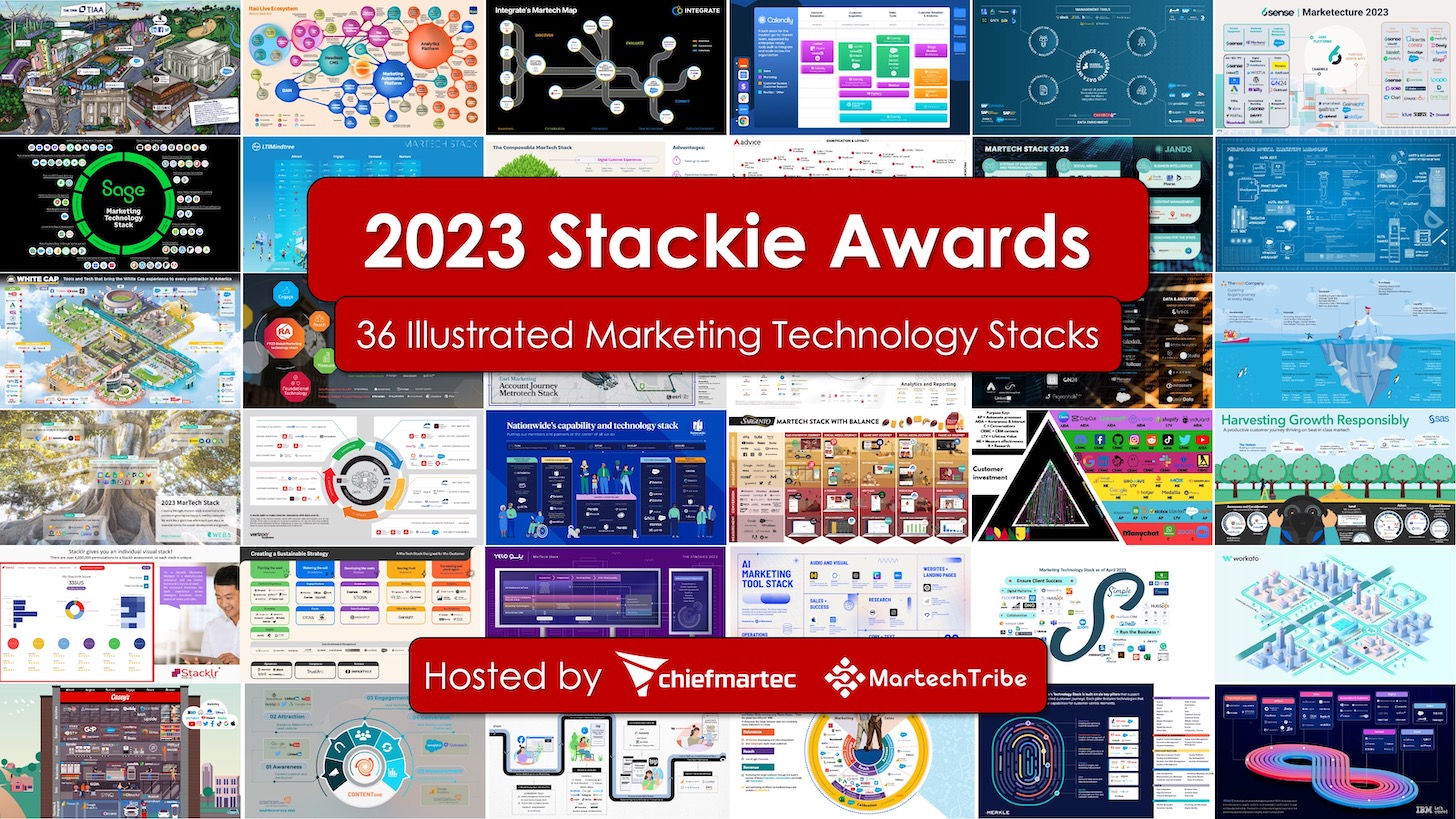 I hope you had a wonderful #MartechDay yesterday. It's one day a year — the first Tuesday in May — to expressly celebrate all the amazing martech and marketing operations pros who make marketing work behind the scenes.
I spent yesterday in our online Best of Breed Marketing Summit. We had 20+ sessions from top marketing and martech leaders — and you can still catch most of them on-demand here for the next couple of weeks. Frans Riemersma and I unveiled the 2023 marketing technology landscape during our keynote.
But my favorite part of the day was our ceremony for the 2023 Stackie Awards.
The Stackies are a fun awards program we've been running for 9 years, where we invite marketers to send in a single slide illustrating their martech stack, however they want. How do they conceptualize it? What tools or capabilities does it include? It's a lighthearted way for the community to get a glimpse into the high-level composition of martech stacks from many different companies in different industries.
Over the years, this has resulted in a collection of hundreds of visualized martech stacks. You can view all of them from previous years, here: 2015, 2016, 2017, 2018, 2019, 2020, 2021, and 2022.
And now you can get the full deck of all 36 martech stackes entered in 2023 here.
We are grateful that so many major companies such as Akamai, Casey's, IBM, Itau Unibanco, Jands, Nationwide, Philips, Sage, Sargento, SAS, TIAA, Verizon, The Washington Post, White Cap, and more contributed this year.
To express our gratitude for everyone who takes the time to send in these slides, every year we donate $100 for each stack entered to a worthy cause. This year, we're donating to Justdiggit, a non-profit focused on regreening Africa in collaboration with farmers across the continent as one way to help address climate change. With 36 entries this year, we're delighted to make a $3,600 donation on behalf of our contributors.
Of course, to have an awards program, you actually need to give awards!
So every year we pick a handful of entries as the "winners" of The Stackie Awards. I put "winners" in quotes because — as I emphasize every year — any martech stack that is serving your business effectively is a true winner. And everyone who enters their stack into The Stackies deserves to be celebrated for contributing to the community. The winning slides we choose are simply ones that we found particularly creative, interesting, or informative — a highly subjective call.
So with that disclaimer, I'm happy to share the 7 Stackie Award winners this year…
Esri's Martech Stack
We thought Esri did a terrific job of inventorying the full spectrum of tools used across marketing. They organized them along the customer journey of acquisition, nurturing, and retention, as well as behind-the-scenes work with data and productivity tools. They keep the customer in mind at every stage of this cycle.
But what we especially liked were the little labels below the names of the different tools in their stack that briefly summarized what they used that tool for, e.g., pdocasting, search engine optimization, event management, social listening, email authoring, etc.
People who aren't super close to martech often think these stacks of tools are redundant and unused. But when you see a well-run marketing operations group — such as the team as Esri clearly is — they have very clear purpose and function for every component in their stack.
White Cap's Martech Stack
White Cap serves the contractor and construction industry in the US, and they put together a vivid Simcity illustration of their martech stack. These are always such fun to visually wander through. (Well, fun for a martech nerd such as myself.) They also get points for thoroughness, a very complete view of the range of different capabilities used in modern marketing.
One feature of this illustration that we appreciated were the little green, yellow, and red arrows pointing at each product in their stack indicating how much usage they get. As I've often debated, you don't need to use all the tools all the time to get value out of them. Get a sense of the relative frequency and scale of usage of different products in a stack is helpful to understand the role they play, even if it's just as a supporting actor.
Casey's Martech Stack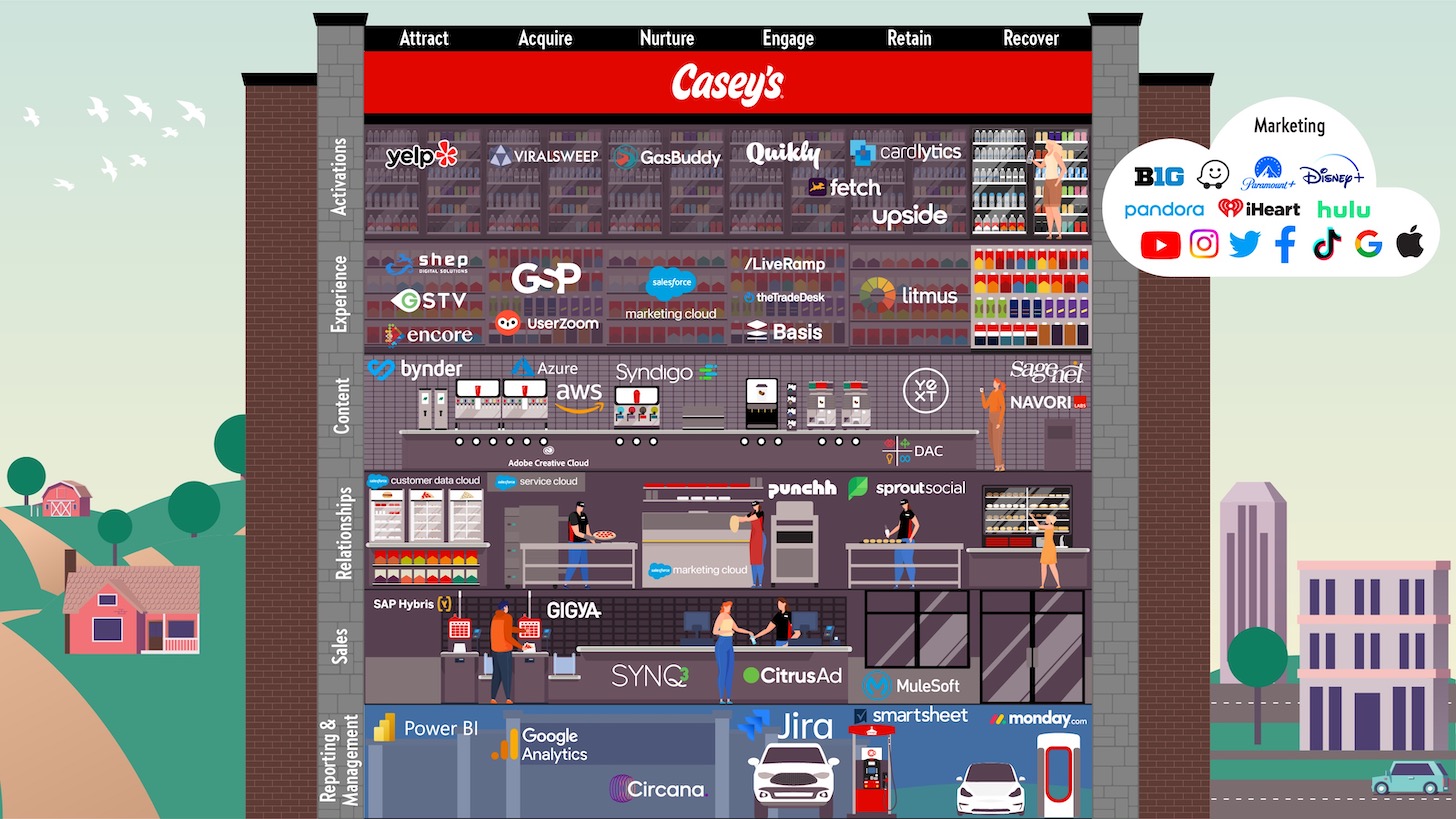 Casey's is a chain of 2,500 stores — with particularly good pizza, I'll add! — across the US midwest. This is an industry that we haven't seen a lot of martech stacks from in the past, so it was great to get a view into what their stack looks like.
The colorful store layout of their slide actually contains a well-thought-out, two-dimensional structure. Along the roof you can see the horizonal axis of the customer journey: attract, acquire, nurture, engage, retain, and recover. And along the left wall you can see the vertical axis of functional capabilities: activation, experience, content, relationships, sales, and reporting & management.
The different products in their stack are approximately mapped within that 2×2 matrix. Cool!
Philips' (Philips.com) Martech Stack
Philips has made amazing contributions to The Stackies for multiple years. And they're always so good. We almost have a bias against giving them an award because we've given them so many. We want to spread the love.
But once again, Philips has made an entry that we have to acknowledge is simply fantastic. This time because they narrowed the scope to just present the marketing technologies that contribute to their philips.com website. A modern website for a major company such as Philips often has an incredibly rich ecosystem of products supporting it that can be easily underestimated by someone who doesn't look closely.
This slide, with a web page at the center, shows how all the different acronyms of DAM, PIM, CRM, and DXP all converge to deliver this experience — as well as non-acronymed technologies for commerce, payments, ratings & reviews, translation, identity, and more. Super insightful lens into a marketing web stack.
Sargento's Martech Stack
Sargento, an American food producer best known for their cheese, is another multi-year entrant and multi-year winner. Always terrific contributions. And, as with Philips, we asked, could we give them yet another award?
The answer is obviously yes. What we loved about this year's entry is that they illustrated multiple customer journeys. We're big fans of the customer-journey-centric framing of stacks in general. But this may be the first time we've seen a company share a slide that shows there are often many different customers journeys that are possible — and that each can have some of their own tools, channels, and partners. Well done!
Majid Al Futtaim Group's Martech Stack
Majid Al Futtaim runs a collection of shopping malls, retail stores, hotels, and entertainment venues across the Middle East and North Africa. Again, another industry — and geographic region — that we haven't seen a lot of Stackies entered for previously.
As with Esri's stack, we appreciated both the thoroughness of their illustration but also the excellent organization and labeling of their toolset. The big bucket categories of tools follow the customer journey pattern: attract, acquire, convert, retain, measure. But it's the detailed subcategories labeling the more specialized capabilities they've implemented — and the specific tools they use for them — that provides real insight into this stack.
Before you claim "marketers have too many different tools that they don't really need or use", it's worth taking a close look at what each of the products in this stack actually do. You might be surprised by the effective and useful diversity of functionality contained within.
Itaú Unibanco's Martech Stack
One more repeat winner this year, but also well-deserved, is Itaú Unibanco, a global financial services company headquartered in Brazil.
The thing that is remarkable about this Stackie entry is that there are no specific tools mentioned. Yet it beautifully maps the ecosystem of their martech stack, with clear labels for each component, and the connective tissue between them. We love the more detailed descriptions in small, black print further explain what these different tools do. It's like a mini-MBA in marketing technology compressed into a single slide.
Thank you again to all of the companies who entered the 2023 Stackie Awards. This is a truly incredible collection of contributions you've made this year.
Get chiefmartec.com directly in your inbox!
Subscribe to my newsletter to get the latest insights on martech as soon as they hit the wire. I usually publish an article every week or two — aiming for quality over quantity.